War Horse, by Michael Morpurgo, is a novel from the perspective of a horse named Joey, trained by a farm boy and sold into the Army in WWI. Not only is it available in hardcover and paperback, it's available in audio book, at the movies, and theater production. I listened to it on audio book and what was really amazing was that when I got to the New London Theatre, the actor Albert must have been the same actor from the audio recording. It was like the book came to life hearing it with the exact same voice.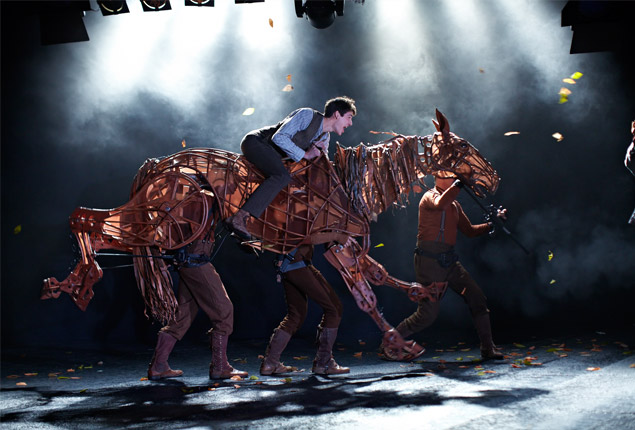 More mind-blowing were the puppets. Yes, puppets. These horses look like they are made of steel or sticks, but their movements are so fluid and life-like the actors trick your mind into believing they are living and breathing, stomping and dying. At one point, when one of the horses dies, we were all soggy-eyed and the woman behind us was sobbing! That's how real it felt.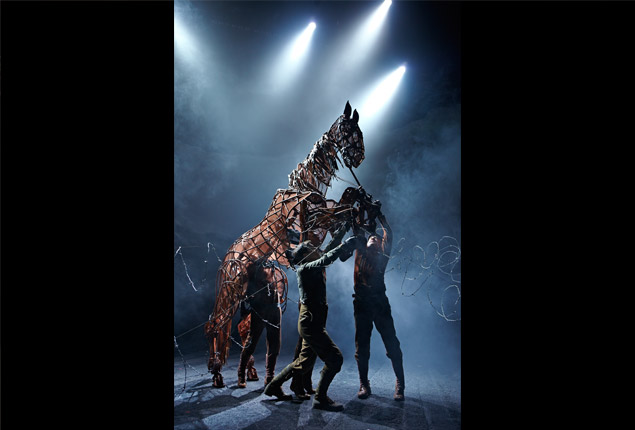 Even if you don't enjoy war stories, this story really boiled down to a boys love for his horse and how far he would go to be reunited. It brings up the cruelty and foolishness of fighting and peaks with soldiers on opposite sides calmly deciding which one of them should get Joey who is stuck in No Man's Land. Imagine soldiers armed and fighting suddenly stopping to flip a coin - both treating the horse with kindness and respect. It makes you think about the human condition and foolishness of violence when words are all that's needed.
This production is just one of those performances you have to see in motion. Photos do little to bring it to life. If you ever get to see ANY production by the National Theater or any life-sized puppet production, consider yourself privileged! War Horse will be in Denver on Jan 8, 2014, Souix Falls, LA and lots of other US locations starting in September. Visit www.warhorseonstage.com for more pictures, videos, and performances.
source
source