Rosalind and Orlando
How can you not love this goof, Orlando?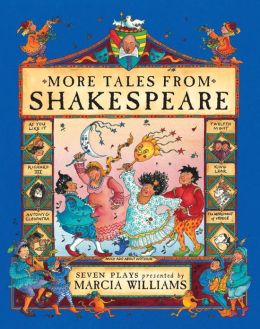 Shakespeare - is either as you like it, or as you don't like it! For some, the old English is so confusing, the play doesn't make any sense. BUT, if you humble yourself and read some of the summaries written for children, then you can follow the tone of voice and gestures of the actors and let yourself be amazed! We read As You Like It for Kids by Marcia Williams and acted out the real script to get a feel for the characters and plot.
The story begins with Orlando being jilted out of his inheritance by his brother, Oliver. To work out his frustrations, he accepts an impossible challenge to wrestle Charles (the hulk). He instantly falls in love with Rosalind when she congratulates him on his win. Earlier, Rosalind's uncle had thrown her father out and now angry over his prized fighter's loss, he throws her out, too. Rosalind and her cousin, Celia, run away disguised as a poor couple to find her father in the woods. Meanwhile, Orlando is searching for her and meets her in her disguise in the forest. She tests his sincerity by getting him to profess his love for "his dear Rosalind". In her man's costume, she swears that "Rosalind" will appear at a wedding ceremony the following day where they can be reunited. Since all their friends also found love, the wedding ceremony becomes a four-couple affair and the confetti flies! Woohooooo!!
What was really neat was the way the acting company modernized it and added extra elements of comedy without changing the script. At first, Oliver came out dressed in a slick business suit and the actors were just hilarious with their expressions and body movements. We were a little confused at times by Orlando's aggressive behavior towards Rosalind in the woods. We kept wondering why Orlando was all over "him" in the woods. Does anyone know if Orlando was in on the disguise all along? It may be the twist the acting company put on it to make us wonder.... Still, the wondering kept our attention on edge!
This acting company was so fun, I imagine the original Shakespearean actors putting on this comedy would have been extra silly as well.
As You Like It was As I LIKED it!!
The farewell wedding celebration
Performed at the Royal Shakespeare Theatre in Stratford, England by the Royal Shakespeare Company
disclaimer: due to photography restrictions in the theater, all images are borrowed and sourced below.
source
source
source